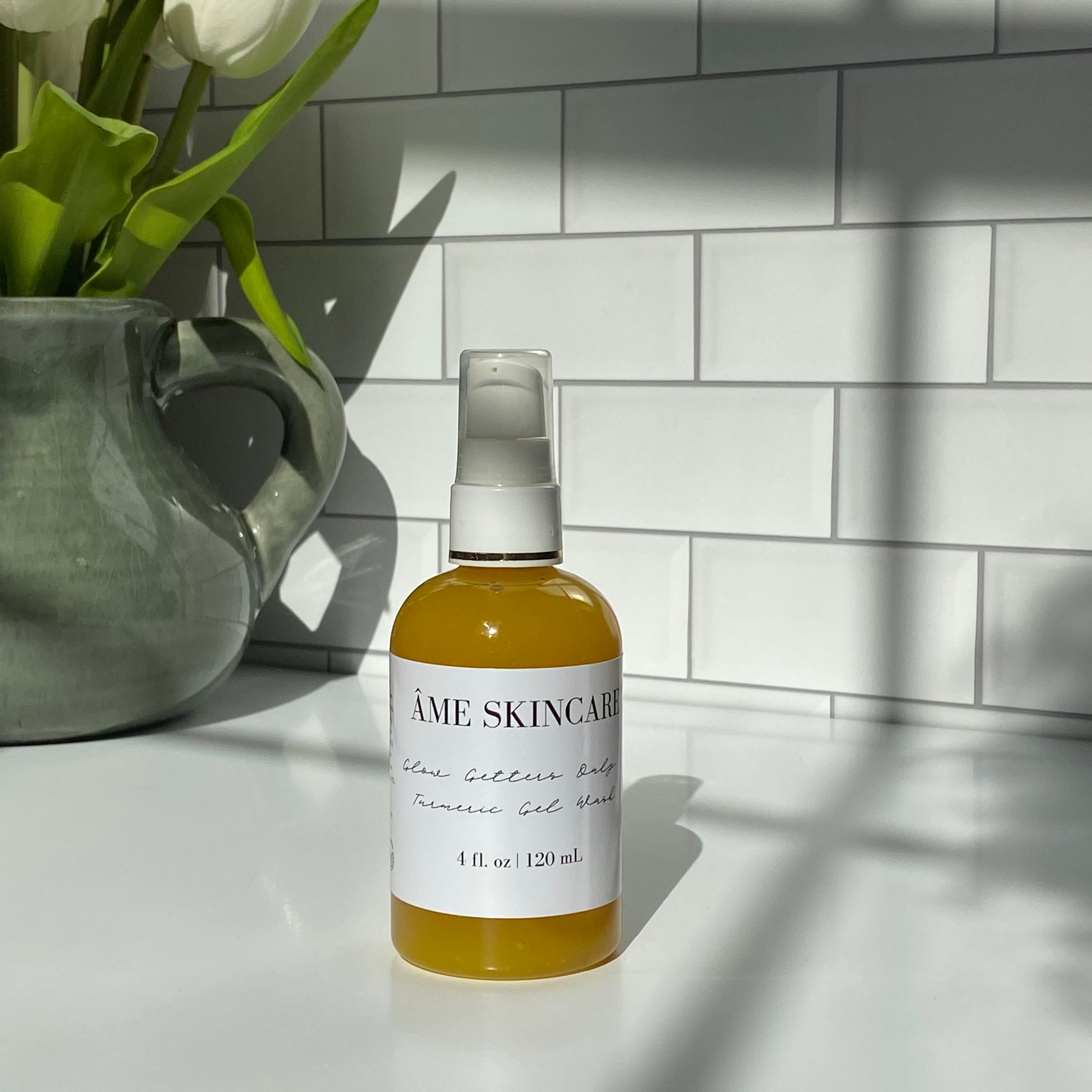 Glow Getters Only Turmeric Gel Wash | For Dark Spots & Acne
To help face the appearance of those stubborn dark spots naturally.
This liquid soap features golden turmeric and licorice root extract for skin brightening. With notes of lemon and tea tree, this is sure to make you feel as though you're wrapped in gold. 100% Sulfate-Free
What is a Glow Getter?
A Glow Getter is a motivated boss who achieves their goals and doesn't let anyone stop them, all with an ÂME Glow. For example, YOU!
Ingredients Spotlight and Why We Chose Each Ingredient:

Licorice Root Extract can fade the appearance of dark spots, acne scars, and stretch marks. It also soothes and brightens the skin.
Turmeric Powder contains antioxidants and anti-inflammatory components that soothe acne to give you the glow you deserve.
Tamanu Oil is known to fade scarring and to combat the appearance of acne.
Rosehip Seed Oil improves the appearance of the skin's texture, reduces dark spots and scarring.
Essential Oils including Tea Tree, Lemon, and Bergamot to help reduce the appearance of dark spots, redness, and pimples.
How to use: Rinse face with lukewarm water. Lather soap with it directly to the face and body. Rinse off soap for a clean glow! Apply the Daily Moisturizing Souffle w/ Niacinamide and/or Lemon Elixir with a moisturizer. Glow on!
Ingredients: Water, Cocamidopropyl Betaine, Decyl Glucoside, Glycerin, Licorice Root Extract, Tamanu Oil, Turmeric Powder, Rosehip Seed Oil, Tea Tree Oil, Lemon Essential Oil, Bergamot Essential Oil, Provitamin B5, Xanthan Gum, Phenoxyethanol, Tetrasodium Glutamate Diacetate
Glow Getters Only Turmeric Gel Wash | For Dark Spots & Acne
Shipping
Fast shipping
Shipping is via USPS and generally takes 7-10 business days to arrive if using First Class Shipping (i.e. the time varies from 3-5 days for long it takes to actually be sent out). If you selected Priority Shipping, it will take 3-5 business days in total.
Order tracking
All orders come with tracking. The tracking link will be found in your email.
Get in touch
Email us at info@ameskincare.com for any inquiries you may have.